Purchase Short-Term Access to HeinOnline, Prices starting as low as
$29.95!!
6 Colo. J. Int'l Envtl. L. & Pol'y 61 (1995)


Can Algae Save Civilization - A Look at Technology, Law, and Policy regarding Iron Fertilization of the Ocean to Counteract the Greenhouse Effect; Peterson, James Edward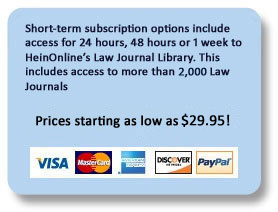 Already a Subscriber?